We have recently built a new Saas platform that provides detailed analytics on online stores in different countries, including information on:
top verticals / categories for online stores
most common tags used by shopify stores
growth of shopify stores in country
social media use by shopify stores in country – facebook, instagram, linkedin, twitter and youtube
extent of email and phone use
what are the typical domain extensions
what are the most popular stores by number of visits
which verticals categories are most difficult in terms of SEO backlinks
what are the typical number of products sold in Shopify stores in given country
what are the typical prices achieved
which technologies, stack is most commonly used by Shopify stores in given country
In this post we will examine the case of country Italy.
Top verticals and categories
According to the our report, apparel accessories, home and garden, and hardware are the most popular categories of top Shopify stores in Italy. This is great news for entrepreneurs who want to enter the Italian apparel market.
With a large number of square feet of retail space to be developed by 2022, Italy  is seeing an increase in shopping malls and streets lined with boutiques selling clothing, shoes and accessories. The country has a long history of producing luxury products and its fashion industry is one of the world's largest.
There are almost 1000 stores in the Apparel category, see chart:
Website categorization has been done with a help of machine learning model. A nice introduction to website categorization can be found in the following article:
https://dev.to/airesearcher/website-categorization-use-cases-taxonomies-content-extraction-2onp
Most common tags used by Shopify Stores in Italy
We have built a machine learning model, a multi label classification which is able to generate tags for given product names. We have used it to auto-generate tags for millions of products which allows to then find out which tags are most common in given countries. Here are the top tags for Shopify Stores in Italy:

If you want to test the ML tagging solution you can find it at www.producttagging.io.
Growth of Shopify Stores in Italy
Next interesting statistic is the growth of shopify stores in country. As seen in the chart below, Italy has seen a high growth of shopify stores, with accerelation especially in Q2 of 2020 as many stores established their online presence to reach their customers.

Social media use
Social media is a powerful tool for any company to use. In this case, we're looking at how many of these social networks are present on the websites of stores and what kind they might be (Facebook/ Instagram etc.). We found that about most of them have Facebook and Instagram as being most prevalent among all others.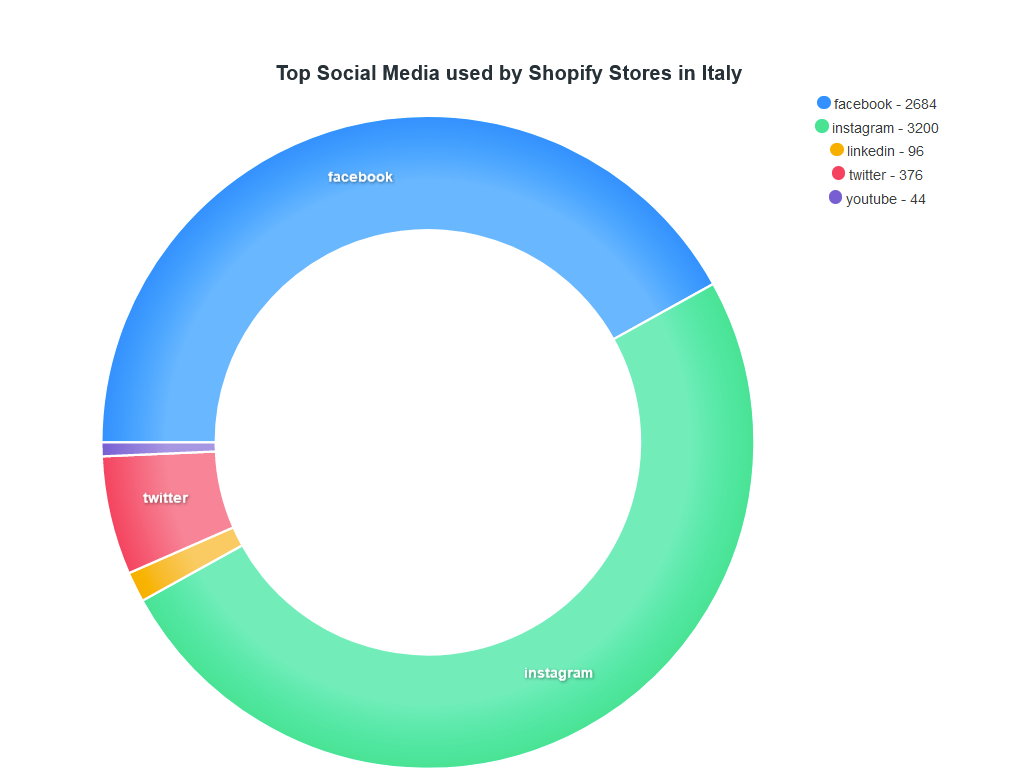 Which domain extensions are most popular in Italy?
The statistics below will help you figure out which one is right for your business. The most commonly used ones include: .com,.net, .it. There's also a bunch of others that are probably less desirable because they're less frequently accessed by users or found on fewer websites than the top ones!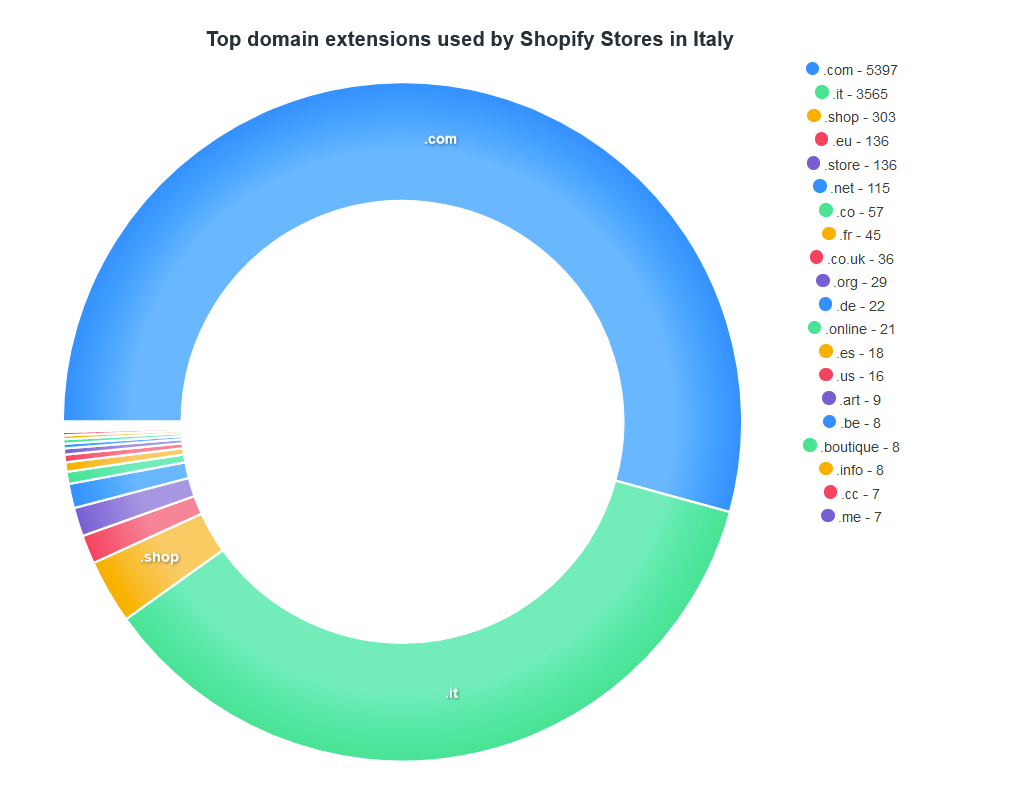 Most popular stores
Which Italian online stores are according to Tranco Ranks the most popular? Listed below is a list of some well-known shopify entrepreneurs in Italy.
| Domain | Tranco Rank |
| --- | --- |
| mclabels.com | 44057 |
| carolazeta.com | 103109 |
| loolalab.com | 131314 |
| thedogslanding.com | 165812 |
| gpemax.com | 166062 |
| ferplast.com | 197069 |
| nugnes1920.com | 217697 |
| aliita.com | 244532 |
| wellnek.com | 249748 |
| alyxstudio.com | 275191 |
Tranco ranks is a research based approach to rank websites by visits. You can find the same stats for Austria here:
www.leadsquantum.com
We also support keyword research for shopify stores with our other platform, UnicornSEO.
It enables to find an answer to what are e.g. best seo keywords for skin care.
Backlink difficulty
The importance of rankings in search engine results is not an easy task. To rank well, it's necessary to have a strong backlink profile and good SEO knowledge on how each website works for itself as well its users with various needs like price sensitive or quality oriented ones among others.
The following distribution list shows domains which are more likely towards higher Open Page Rank intervals based off their domain size; these sites typically attract less competition than those at lower ranks due largely because there isn't enough information available about them yet – people want places where they can easily find what you're selling without having too many clicks before seeing any product detail pages!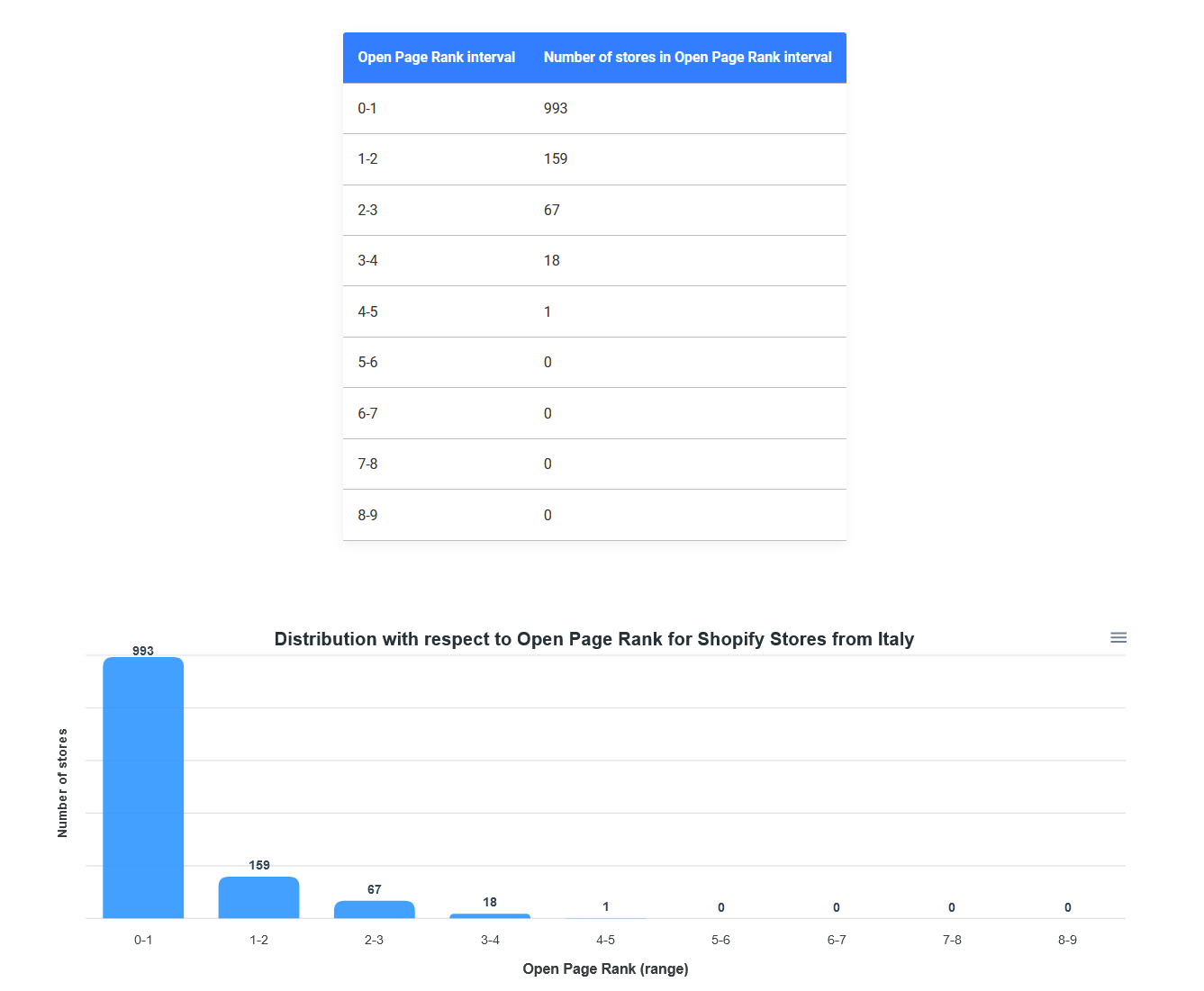 Number of products sold
As you can see, the number of products sold by an online store is often a good indication as to where they rank among other similar stores. For example if there were only five different kinds of toy available on your preferred marketplace then it would likely not be very popular amongst customers and might even have low reviews from those who purchased it in order for them feel confident about buying another product from this website again next time around!

Are you looking for similar stats for other countries?